Trump impeachment hearings to resume with Marie Yovanovitch testimony – live | US news
Republicans on the House intelligence committee have set up their exhibits for today's impeachment hearing, and they have added a new sign since Wednesday. It features a quote from Ukraine's foreign minister claiming he never saw a link between US military aid and investigations into the Democrats.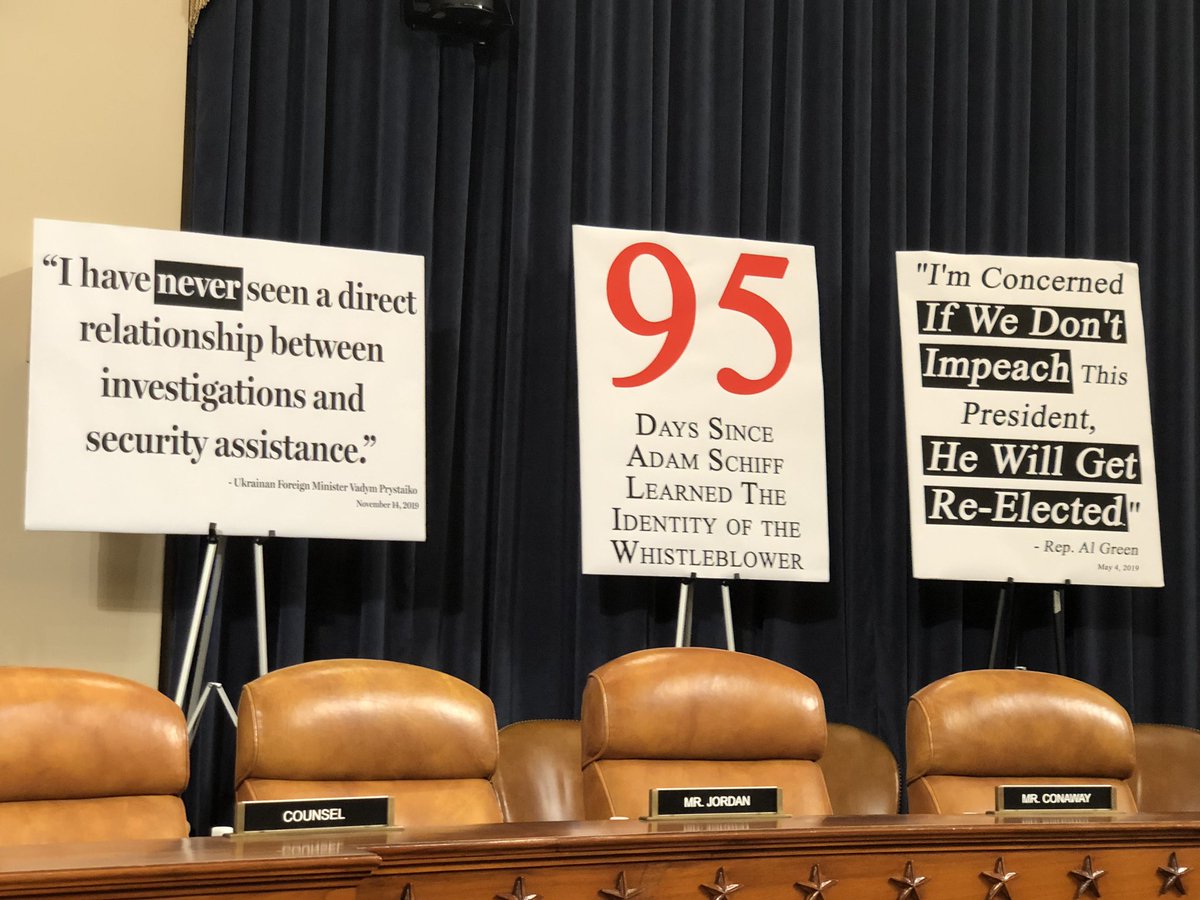 After the first public impeachment hearing, some commentators complained that Bill Taylor and George Kent's appearance featured few explosive moments, even though Taylor testified about a previously unknown call in which Trump asked about "the investigations" in Ukraine.
However, it appears that past impeachment hearings have been similarly subdued. The front page of the Washington Post after the first Watergate hearings in 1973 described the event as "not exactly high drama."
As Capitol Hill prepares for the second public impeachment hearing, the ratings have come in for the first hearing, and they are … lackluster.
Axios reports:



Day One's 13 million live TV viewers fell well shy of James Comey's testimony in June 2017 (19.5m); the Christine Blasey Ford/Brett Kavanaugh hearing from September 2018 (20m); and the Michael Cohen hearing in February (16m).
However, as Axios notes, this dip in viewership may be because the impeachment hearings are expected to play out over several days, so Americans might be waiting to tune in.
Former US ambassador to Ukraine set to testify in impeachment hearing
Good morning, live blog readers!
And welcome to Day Two. The second public hearing in the House impeachment inquiry against Donald Trump begins at 9am ET with the testimony of Marie Yovanovitch, the former US ambassador to Ukraine.
Yovanovitch is a career diplomat who was recalled from her post in May, even though she was widely respected by her fellow state department employees. (For more on Yovanovitch's long government career, read Julian Borger's excellent profile of her from last month.)
Yovanovitch testified to impeachment investigators last month that when she was recalled in May, even deputy secretary of state John Sullivan told her she had "done nothing wrong". The diplomat, as well as some her colleagues, contend she was the victim of a smear campaign by Rudy Giuliani. The president's personal lawyer was reportedly dissatisfied that Yovanovitch was becoming a barrier in his efforts to pressure Ukraine to investigate one of Trump's political rivals, Joe Biden.
In the White House memo on Trump's call with the Ukrainian president, the commander-in-chief is quoted as calling Yovanovitch "bad news" and predicting she was "going to go through some things". Today, the longtime civil servant will have a chance to share her side of the story with the public.
Updated