Love its famous landmarks and attractions? Take our test and see which ones you know from this selection from around the world. Including natural and artificial places. Most attractions and landmarks are extremely famous, attracting millions of travelers each year, while some may be less well known, but also impressive.
Below, you will find the questions. Just choose what you think is right in the multiple choice options. There are 25 questions below. Have fun and no cheating.
Difficulty: Easy-Medium
Please note that you will need Javascript enabled on your computer for the test to work correctly! 🙂
---
Questions
1. The Eiffel Tower is a famous landmark that you will find in which city?
Located in Paris, the Eiffel Tower is now one of the most recognizable landmarks in the world and a must for anyone visiting the city.
2. In which country is this huge rock known as Uluru found?
Italy
Australia
Madagascar
Brazil
You will find Uluru in Australia. The rock is made of sandstone, rises up to 348 meters and is a sacred landmark for the local Aboriginal people.
3. You will find this beautiful landmark in Singapore. What is it called?
Miracle Garden
Main gardens
Gardens by the Bay
San Grato Park
These are Gardens by the Bay, which is a popular attraction in Singapore. Seen in the photo are the Supertrees about 25 to 50 meters high. Read more about
attractions in Singapore
.
4. Below is the monument "Cristo Redentor". In which city in South America will you find it?
Rio de Janeiro
Santiago
Buenos Aires
savior
You will find Christ the Redeemer in Rio de Janeiro. It is one of the most emblematic statues in the world and a must when visiting Brazil.
5. See the stunning Peyto Lake below. In which country will you find him?
You will find Lake Peyto in the province of Alberta, Canada. It is colored due to the glacier flour that flows into it during the summer. We are sure that many would agree that this is probably one of the most beautiful lakes in the world. Read more about
places to visit in canada
.
6. The Sagrada Familia seen below has been under construction since 1882, but where is it?
Sao Paulo
Prague
Madrid
Barcelona
This basilica you will find in Barcelona has been under construction since 1882. Designed by Gaudí, the architecture is unique inside and out and a must when visiting Barcelona.
7. What is the official name of this tower that you will find in Seattle?
Oriental Pearl Tower
Milad Tower
CN Tower
Space Needle
This landmark is called the Space Needle and was built in 1962. It rises to 605 feet and offers fantastic views from its observation deck.
8. Currently, the tallest building in the world, the Burj Khalifa, reaches heights of 830m – Do you know which city it is in?
The Burj Khalifa was completed in January 2004. It is currently the tallest building in the world, reaching incredible heights of 830m. You can visit the observation deck at 555m to get incredible views for miles in all directions.
9. As part of an ancient empire, Machu Picchu is a popular landmark that you will find in which country?
Machu Picchu is an immensely popular attraction and you will find it in Peru. The sanctuary that you can see above reaches 2430 meters above sea level and originates from the Inca Empire.
10. This bridge connects the Small Town to the Old Town of Prague. What is his official name?
Ponte Vecchio
Charles Bridge
Brooklyn Bridge
Chapel Bridge
The official name is Charles Bridge (Karlův most). It was completed in 1402 to replace an earlier bridge that was damaged by flooding. The bridge has been called Charles Bridge since 1870.
11. Where in Egypt will you find these famous pyramids?
12. This castle in Romania is famous for Dracula's novels. What's his name?
Bodiam Castle
Bran Castle
Glamis Castle
Corvin Castle
This attraction is called Bran Castle, which you find in the Transylvania region of Romania. It is sometimes called Dracula's castle because of its resemblance to the castle used in Bram Stoker's Dracula novel.
13. Below is India's most famous landmark and one of the New 7 Wonders of the World. What is it called?
Safdarjung's Tomb
Pantheon
Qutub Minar
The Taj Mahal
Of course, this is the Taj Mahal and one of the New7 Wonders of the World. Built between 1631 and 1648, you will find this incredible landmark in Agra, just south of India's capital, Delhi.
14. This Giant Buddha is found somewhere in China. Do you know which city?
Leshan
Shanghai
Chongqing
Quanzhou
Located in Leshan, this Giant Buddha is 71 meters high. It is carved into the hillside and is the largest Buddha in the world. Read about
best places to visit in China
.
15. This unusual tower is located in Italy. Do you know what it's called?
St. Mark's Campanile
Leaning Tower of Pisa
Giotto's bell tower
Mangia Tower
Known as the Leaning Tower of Pisa, it was originally about 60m high. Since it tilts about 5 degrees, it is now about 57 meters high.
16. Seen is the Grand-Prismatic Spring. In which US national park will you find it?
Bows
Yosemite
Yellowstone
Glaciers National Park
17. This impressive landmark called Wat Rong Khun (or White Temple) is found somewhere in Thailand. You know where?
Phuket
Chiang Rai
Bangkok
Chiang Mai
Located near Chiang Rai, in northern Thailand, this beautiful temple is a private attraction created by Chalermchai Kositpipat. With its unconventional white design, it is highly exclusive, compared to most temples you will find across the country.
18. These ancient rocks have been a mystery for centuries. They are located in England. What did they call it?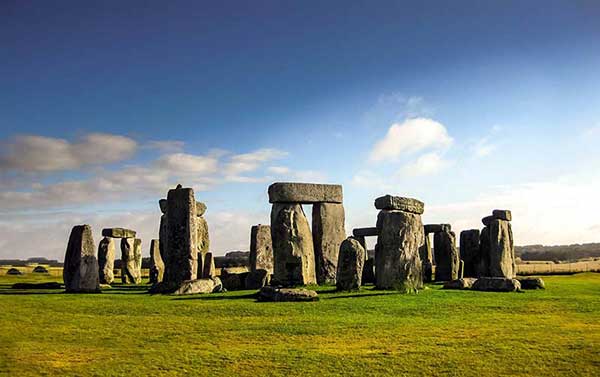 Old Harry Rocks
Stonehenge
Balance Rock
The Pillar Rocks
This landmark is called Stonehenge and was built about 5000 years ago. The stones placed in a circle weigh up to 30 tons.
19. This cool and unique architecture is found in a city in the Netherlands. Which one?
Hague
Amsterdam
Netherlands
Rotterdam
This unique architecture is a major attraction that you will find in Rotterdam. They were created by the Dutch architect Piet Blom and include cubes tilted at a 45 degree angle. Read about
cool cities to visit in the Netherlands
.
20. Lake Wanaka is a natural landmark famous for the tree that stands out from the water. In which country will you find him?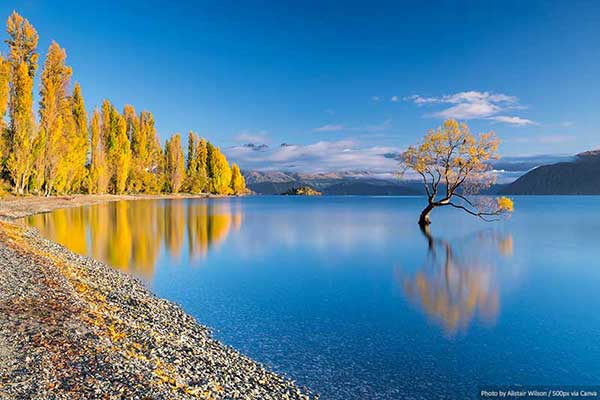 Italy
Georgia
New Zealand
Malaysia
You will find Lake Wanaka on the south island of New Zealand. It is incredibly popular with photographers looking to capture an image of the tree in the lake.
21. This beautiful parliament is located in Europe – do you know the city?

Vienna
Budapest
Bucharest
Paris
This is the Hungarian parliament that you will find along the Danube river in Budapest. It is probably one of the most beautiful parliament buildings in the world.
22. Angkor Wat is an ancient temple located in Asia – In what country will you find it?
Cambodia
Thailand
Indonesia
Vietnam
Seen is the impressive temple of Angkor Wat, originally from the 12th century and the Khmer Kingdom. Read more about
visiting Angkor Wat
.
23. This is one of a group of waterfalls that border Canada and the USA. What are these waterfalls called?
Niagara Falls
Victoria Falls
Waterfalls of Iguaçu
Gullfoss Falls
This is Canadian Horseshoe Falls, which is part of Niagara Falls. The other waterfalls at Niagara Falls include American Falls and Bridal Veil Falls.
24. You will find this beautiful tower in Japan. Do you know which city?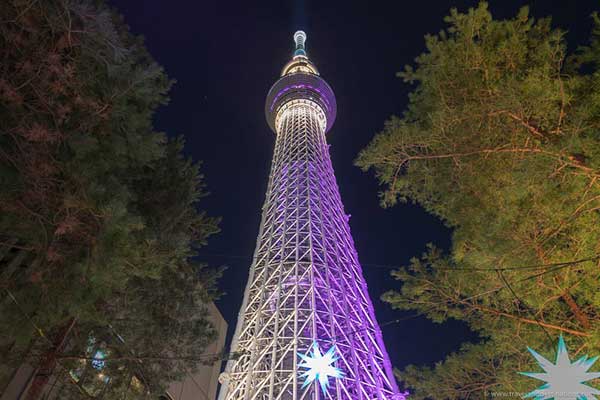 This is Tokyo Skytree, a wonderful piece of architecture. It reaches 634m and is one of the tallest towers in the world. Read more about
famous towers around the world.
25. What is the name of this famous monument that you will find in Northern Ireland?
Big Sur
Cliff of Moher
Twelve Apostles
Pavement of the giants
view is the Giant's Causeway, which lies along the upper coast of Northern Ireland. The landmark consists of more than 40,000 hexagonal shaped stones created some 60 million years ago.
---
RESULTS
---
Thanks for playing. Click the button below to see how you did it …
Where did you rank?
| Correct Questions | # People |
| --- | --- |
| 81-100% | |
| 61-80% | |
| 41-60% | |
| 21-40% | |
| 0-20% | |
Number of completed:
Did you like this questionnaire? Share with your friends.
Do you like another test? Scroll down for more …
Images by team or from Canva or Pixabay.
---
Related articles