The DFL – Deutsche Fußball Liga, announced on Wednesday the exact schedule of the Bundesliga and Bundesliga 2 matches until the end of the current 2019-20 season.
This involved scheduling Matchday 30, 31 and 32. On Matchday 33, all Bundesliga matches will be played simultaneously on Saturday, June 20, and all Bundesliga 2 matches will be played on Sunday, June 21. At the end of the season on Matchday 34, all Bundesliga matches will take place simultaneously on Saturday, June 27, and in Bundesliga 2, they will take place simultaneously on Sunday, June 28.
In the Bundesliga, there are still a few games left this season, where the teams in the top third of the table will face each other. For example, on Saturday, June 6, Bayer 04 Leverkusen will meet FC Bayern Munich. A week later, on Saturday, June 13, Borussia Mönchengladbach will be playing for FC Bayern Munich. On round 33, RB Leipzig will play against Borussia Dortmund.
The match between SV Werder Bremen and Eintracht Frankfurt on Matchday 24 has been rescheduled. This was canceled due to the postponement of the UEFA Europa League's Eintracht Frankfurt game in Salzburg and will now take place on Wednesday, June 3.
Read too: Bundesliga and SkyPerfecTV! Extend the partnership for another 5 years
From the 30th round, there will still be some duels in Bundesliga 2 in the fight to promote the Bundesliga, among other things. On Matchday 33, for example, 1. FC Heidenheim 1846 receives Hamburger SV; a week later, the current table leader, DSC Arminia Bielefeld, will face Heidenheim. Before that, on the 31st round, there will be the derbies between 1. FC Nürnberg and SpVgg Greuther Fürth (Saturday, June 13), as well as between Karlsruher SC and VfB Stuttgart (Sunday, June 14).
In Bundesliga 2, the match on Matchday 28 between Bielefeld and SG Dynamo Dresden has been postponed. This allows SG Dynamo preparation time of at least one week before the first game of the regular season after the interruption of coronavirus-related equipment – following the quarantine measures imposed by Dresden health authorities on the entire professional team. The match against Bielefeld will take place on Monday, June 15.
Meanwhile, the Matchday 26 meetings between Hannover 96 and Dresden (Wednesday, June 3) and Matchday 27 between Dresden and Fürth (Tuesday, June 9), which had already been postponed due to the imposed quarantine, have been rescheduled.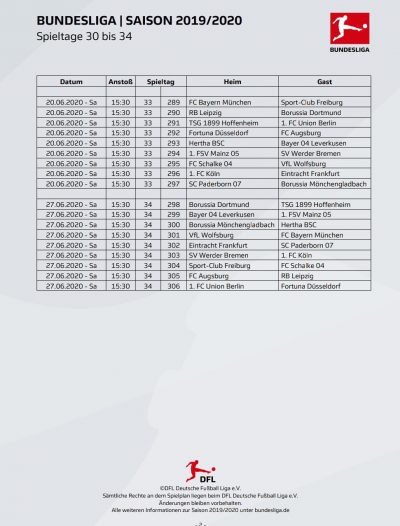 Copyright © 2020 Completesports.com All rights reserved. The information contained in Completesports.com may not be published, transmitted, rewritten or redistributed without the prior written authorization of Completesports.com.